Digital Talent Program - Demo Day Asia Pacific 2021
1. What is DILEN ?
DIGITAL TALENT PROGRAM
DEMO DAY Competition Collaboration for Senior and Junior High School Students Learn Digital Talent Start-Up Pitching For Teenager.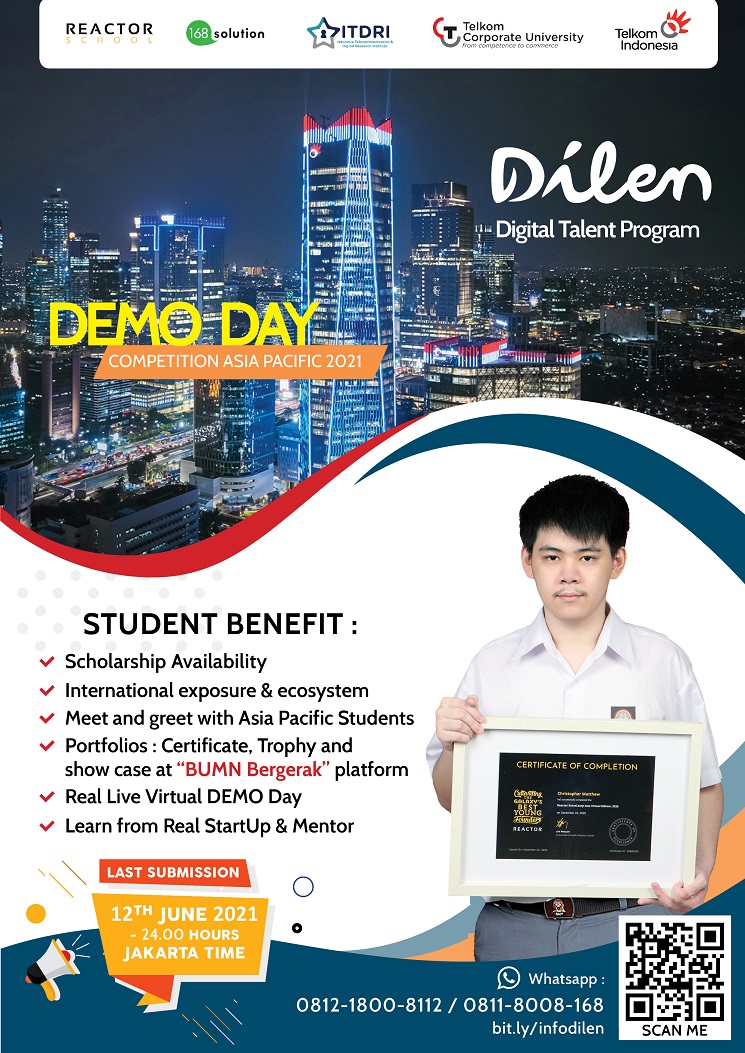 2. Background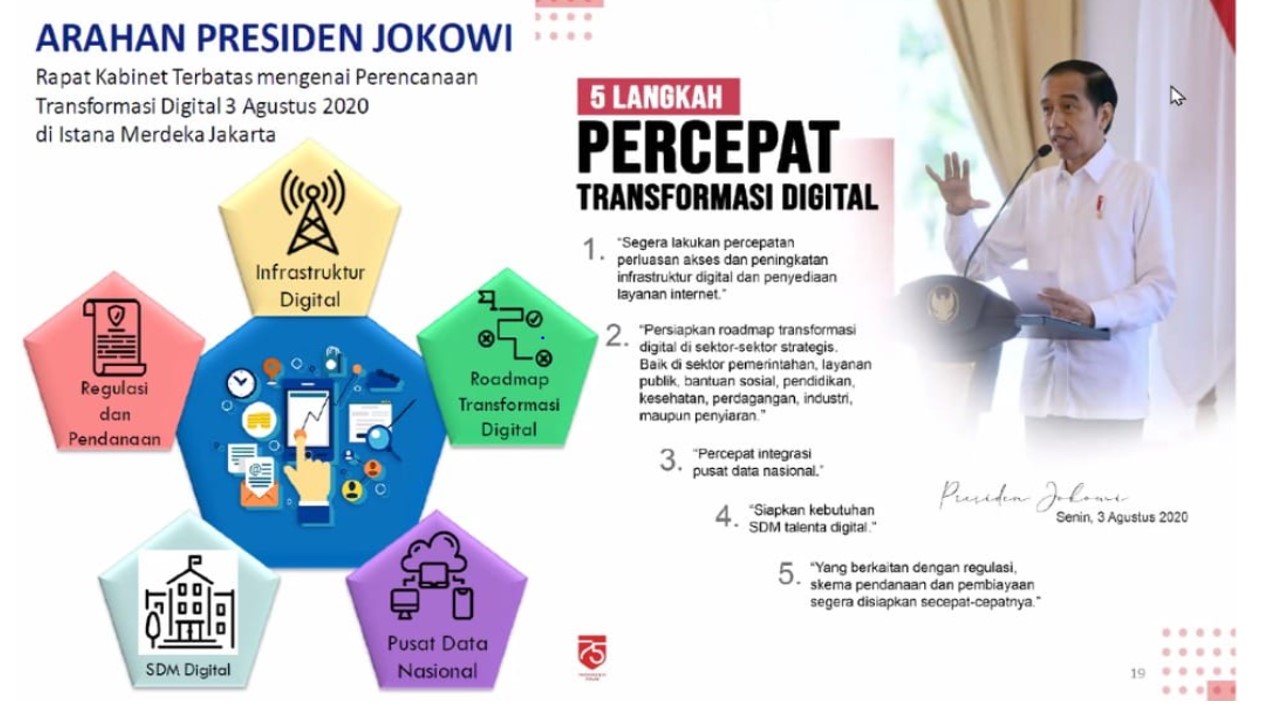 3. Benefit for Students?
Scholarship Learning & Competition

Networking and Learn from Real StartUp Entrepreneur, Mentor and Asia Pacific Students

A lifetime portfolios: Certificates, Trophy Reference and Exposure at "BUMN Bergerak"

Real Life virtual DEMO Day experience

Listed with Telkom Digital Talent community
4. Participant requirement
Students' participant should be Indonesian citizen

Mandatory ability to speak Bahasa Indonesia and able to communicate in English, speaking and written

Age ranging from 13th to 19th years old by the time 31st December 2021. The student from 7th Year grade going to 8th grade is acceptable, but new students from Primary School to 7th grade are not included in the target segment. The Student of Year 12 who have just graduated from the school are welcome to represent their school for this event.

Participants for this competition will be in groups. Each person should form in groups/teams. One team consist of 3 to 5 students. The students formation will be: i. from the same school or from same courses or same community of learning (example home schooling), ii. Mix of school or team member as long students commit to work together as a team. The Team name should reflect the Schools or institutional education or Community Name (each team should agree on what name the team should declare) or other Indonesian wording as the Team Name chosen. Name should not be harsh / provocative / unethical / not professional. Committee have the right to reject a team if they feel the Name is not proper.

Register through link: http://bit.ly/DilenRegistration
BREAKING NEWS

Submit Monday 14th June 2021 at 11:59PM Jakarta Time
SCHEDULE ZOOM MEETING
(Attend One Session Only) :
Friday 11th June 2021
Zoom session 1: 10.30-11.30
Zoom session 2: 16.30-17.30
Saturday 12th June 2021
Zoom sesi 3: 10.00 - 11.00
Zoom sesi 4: 15.00 - 16.00
5. Pre-requisite for the participants:
Prepare your theme for the problems that will be the case study for the Demo Day Competition. Choose max 3 (three) options of topic that you consider as Problem and you will explore the solution during the 2Days EntreCamp Reactor School.

Each student should finish their Final Exam or any mandatory school related task by 14th June 2021 to avoid conflicting schedule

Participants should arrange their own facilities: desktop or laptop, internet, apps to be used

Student groups will need to commit to learn or familiarized themselves on using the standard apps like office (word, spreadsheet, power point specially), discord, zoom and other recommended platforms decide by Competition Committee (or called Event Organizer = EO)

Students are not allowed to misused the facility of learning during the session. Student have to communicate properly, will respect each other, will not attack students with harsh or hate speech or SARA issues (Suku Agama Ras Antar Golongan) and NO bullying. Promote and support NKRI (Negara Kesatuan Republik Indonesia) is a mandatory.

All participants circle especially Parents and school example : direct Teacher or school representative will provide permission and support the Students Participants to:

Be recorded and capture digitally (video and audio) for the Competition purposes

Attend the live session of TELKOM BUMN Bergerak event on 4th – 17th August 2021 by sharing the experience and provide testimony.

Will comply with and respect all decisions of the competition committee on Winner Selection for this event.

Parents and/or School need to sign off an Acknowledgement Letter – format to be provided. Submit a Letter of Acknowledgement to the Competition Committee as per required date.
6. Rangkaian kegiatan peserta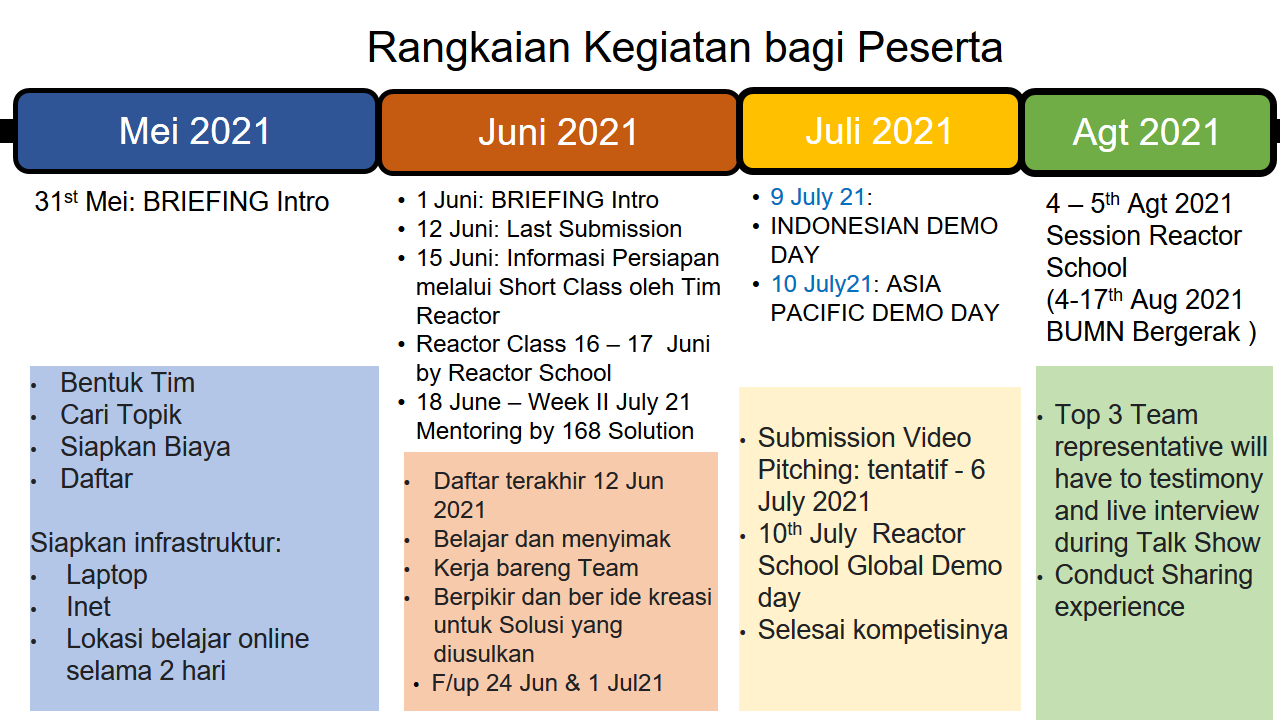 7. Brief Document
Note : Untuk surat pernyataan dikirim kembali ke wa 08121-8008-112 / 0838-98888-168